Do you know that websites can produce CO2 and add carbon footprint to the environment? At different data Centres, there are many computers that generate a huge amount of heat and which require big cooling systems. So it is good to go for eco-friendly web hosting like GreenGreek.
GreenGeeks uses a carbon offsetting strategy, in which whatever energy they consume into gride they put back the same or greater amount of energy from renewables.
From this blog post "GreenGeeks Review 2022" let's see how GreenGeeks is Eco-Friendly to the environment. 
In the year 2008 GreenGeeks was founded by Trey Gardner. Now they have grown their hosting to nearly 3 lakh websites (by established data centers in Europe and U.S.)
Trey has worked with various web hosting organizations, like iPage, HostPapa, StartLogic, iPowerweb, Globat, Dot5Hosting, Lunarpages, and finally at GreenGeeks.
GreenGeeks has two bold USPs on their website :
100% user satisfaction
99.9% Uptime
So what's the final finding? Do they have mind-blowing, excellent uptime and customer support system? Or are their marketing campaigns just full of powerful words? We have purchased the GreenGeeks Shared Pro Plan and set up a website to test their performance.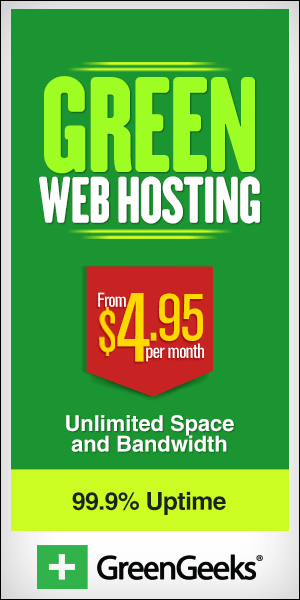 General Overview
Speed
487 ms (Between year 2020 to 2021)
Uptime
99.95% (Between year 2020 to 2021)
Support
24/7 Live chat facility
Apps
PrestaShop, Joomla, WHMCS and WordPress
Features
Unlimited Databases,Backups, Unlimited Bandwidth, 50 GB Storage, Free
Domain 1st Year,Free SSL,50 GB Storage
Hosting Plans
Shared, VPS, WordPress and Reseller
Pros
1. Excellent Uptime Performance
Uptime is the most important thing while deciding a web hosting. Because this uptime affects your website users experience and also bounce rate. Means your business profit and loss is decided at this point.
You will not be disappointed by GreenGeeks because their history shows an average uptime of 99.95%.
Uptime Report is as follows.
Name
Uptime
Response Time
April 2021
99.99%
526 ms
March 2021
99.99%
493 ms
February 2021
99.99%
532 ms
January 2021
81.26%
547 ms
December 2020
49.63%
(outage due to technical issues)
509 ms
November 2020
99.99%
505 ms
October 2020
99.99%
516 ms
September 2020
100%
537 ms
August 2020
99.96%
544 ms
July 2020
100%
537 ms
June 2020
99.78%
558 ms
GreenGeeks average uptime | See stats
2. Awesome Page Loading Time
While choosing your web hosting platform it is very essential to check the server speed.
Why?
Because around one or three seconds delay in page loading will attract around 32% bounce rate. In nutshell the longer the loading time the higher the chance that visitor will leave your website.
Once again GreenGeeks is rocking here. Their page loading speed is better than the overall industry average. Their performance history is the proof of this and so we can trust this web hosting.
3. Excellent Customer Support
The most important feature of any company is its customer support system. Yes, you are also looking for the same and now you are at the right stop. GreenGeeks offers support through multiple ways like live chat, email, and phone. We tested their live chat and it is amazing. Received their prompt reply for all our queries.
You will get phone support during business hours (9 AM to 12 AM EST Mon-Fri and 9 AM to 8 PM on Weekends). But live chat is available 24/7/365.
If you contact them by email then usually the wait time will be 15 to 20 minutes.
Greeks offer an online Help Centre which helps you to search the knowledgebase and also gives support through their FAQs which is best for any common web hosting problems.
There are various video tutorials, sales questions, VPS hosting, General hosting, Reseller hosting, billing questions and many more.
GreenGeeks provides useful information for small business entrepreneurs. Topics like "How to start a blog", "How to start an online store" and much more such information is available.
Just use the search bar to find the answers to your queries.
4. Free domain & Migration
They provide free domain name and transfer facility. They will free domain name service for the first year only. Later on they will charge renewal fees.
If you have hosting your website somewhere else then they will help you for free transfer.
5. Eco-Friendly
GreenGeeks replace much more than 615,000 kWh of electricy per year.
They are recognized Green Power Partner with EPA (United States Environmental Protection Agency)
6. 30-Day Refund Policy
If you're not happy with their service, they have a 30-day refund policy, with 'no-questions-asked' and refund back guarantee on their most hosting plans.
7. Daily Night Backup
Sometimes it may happen that your website crashes or anything. Then GreenGeeks is there for you. They provide free nightly backups. So you can take a sound sleep and no need to worry any more.
Besides this they are offering security measures, like automatic brute force detection, SSL secure server, real-time security scanning, Spam Assassin protection and the facility to password protect the directories.
8. High Quality Server Location
They have servers in US, Canada and Europe. Selecting the right server location can have a big impact on your sites SEO. If you choose closer location then you will experience good speed.
9. Free Content Delivery Network
Everybody connects with a Content Delivery Network (CDN) consistently in the event that they use the web, regardless of whether they're seeing news locales, web-based media pages, or shopping on the web.
GreenGeeks offers a CDN to clients that are fueled by Cloudflare. That is extraordinary information for your site streamlining, particularly in the event that you have a worldwide reach.
The most awesome thing? It's totally free.
Cons
Lamentably, all that sparkles isn't gold.
In spite of the entirety of the potential gains to GreenGeeks, there are a couple of things you ought to know about prior to settling on a ultimate conclusion.
1. High Renewals
GreenGeeks follows the time tested industry-standard act of promoting an exceptionally low month to month pace of $2.49 on their site, just for you to discover that you really need to pursue three years ahead of time to get it.
2. Questionable Money Back Policy
Many web hosting companies show you that they offer free domain name for a new account.
Here also GreenGeeks provide you free domain name for website
GreenGeeks also offers you a free domain name with them.
But be aware of the Terms:
At the time of refund GreenGeeks will deduct the domain name registration charge.
This says that the domain name is on chargeable able and during refund time there are some terms applicable.
This is a common practice following by most of the web hosting companies.
GreenGeeks Fact Sheet
Lite Plan
Pro Plan
Premium Plan
Pricing
$2.49 per month
Renewal at $10.95/mo
$4.95 per month
Renewal at $15.95/mo
$8.95 per month
Renewal at $25.95/mo
Websites
1
Unlimited
Unlimited
Storage
Unmetered
Unmetered
Unmetered
Bandwidth
Unmetered
Unmetered
Unmetered
Email Accounts
50
Unlimited
Unlimited
Other features
–
Power cacher
Premium wildcard SSL
Power Cacher
Dedicated IP
GreenGeeks advance technology servers
Their super efficient servers run on Solid-State Drive Accelerated RAID-10 and quad-core processors local arrays that support quick website performance and safety.
They have kept their servers under restricted areas and also taken care of by UPS systems to decrease power failures.
GreenGeeks has taken security measures to protect all data hosted at their place.
GreenGeeks run 24/7 monitoring service to take care of their servers against hacking attempts.
If you take VPS hosting plan then you will be able to blacklist suspicious IP addresses. Its free Spam Assassin tool will help you to protect your email accounts.
GreenGeeks password protected dictionaries, SSL site encryption will help you to secure your data.
If your website outgrows the original plan then they are helping you to upgrade server resources through their scalable Linux-based hosting solutions.
Shared Hosting
GreenGeeks shared hosting features are different from other web hosting companies. Yes, they are different because they offer unlimited bandwidth, emails, storage. There is no boundary place on the number of MySQL databases or domains you can host for your work.
Another point to be noted is that you can install eCommerce web apps such as Magento and Zencart. In continuation, GreenGeeks offers free domain registration and support for Google Apps and SSH access.

VPS Hosting
VPS hosting is the perfect selection if you are looking for better control over computing resources or want source access to the server. GreenGeeks enables you to manage your VPS with comfort through the proprietory portal.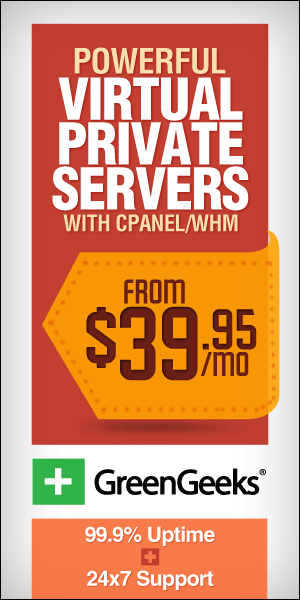 How GreenGeeks is beneficial to small businesses?
Free migration services
In less than 60 seconds VPS servers can be provisioned
As GreenGeeks data is stored on SSDs (Solid-state drivers) you will be able to enjoy the fast reliable storage technology.
Due to the combination of SSDs and Tier 1 bandwidth, your site loading speed will be amazing.
Don't worry about lost data because GreenGeeks offer free nightly backups.

Quick Look On Pros & Cons
Pros
Eco-friendly web hosting solutions
Free nightly backups
Free migration
Resource-rich help center
A dedicated customer support channels
Reliable uptime of up to 99.9%
Free site builder
Scalable hosting solutions including WordPress, VPS, shared, and dedicated server packages.
30-day money-back guarantee
Cons
It only works for Linux Users
VPS and Dedicated hosting are a bit costlier compared to other hosting
In order to get the posted price you need to commit to 3 years plan 
Your domain name cost will be higher than other hosting providers if you want to take advantage of the 30-day money-back guarantees. 

Conclusion
The eco-friendly approach makes GreenGeek unique in itself and it absolutely sets the bar for other hosting companies to go green or decrease their carbon footprint.
Overall, GreenGeeks is a good selection for reliable servers, competitiveness, green effort, price, and performance.
GreenGeeks is really value for money. Some people are selecting this platform just to feel satisfied that they are doing business with a hosting company that is not creating a carbon footprint. As they are offering 30 days money-back policy so at this time you can do your in-depth research before making a final decision.
We recommend this because it has excellent speed, uptime and nice customer support.
This website is using GreenGeeks web hosting.